Wednesday Inspiration is coming your way!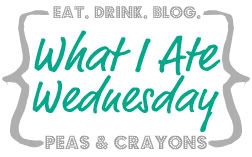 Jenn over at Peas and Crayons hosts a weekly meet up of anyone who wants to post their food "diary" for a day.  

I love this idea and am very excited to participate this week!   This is also such a great way to get ideas from others,as well as learn from your own habits.  
Today was a little bit of a cheat day for me, but we all need those every once in awhile, right?
Woke up at 5:25 this morning, thanks to my precious doggies.  BOO!  I usually wake up pretty hungry, so I headed straight to the pantry for Coach's Oats:
 I forgot to take a picture before, so you now see my devoured oats!  They were mixed with water, strawberries and a teensy bit of natural sugar.
Got the kids off to school and headed to the studio to teach Zumba!  Sweated a ton and worked up an appetite, so grabbed a snack of:
 Apples and peanut butter. Such a perfect treat!
Lunch was here before I knew it and I chose my leftover salad from yesterday:
Grilled chicken and everything else you can think of!
Afternoon hit and I took IR and her friend for ice cream.  Yes, I FULLY enjoyed my waffle cone!
DELISH!
Dinner tonight was nothing special.  B was working late and kids had activities.  Breakfast was the winner!
French Toast with greek yogurt on top.  Scrambled eggs with cheese and all natural bacon (no preservatives, nitrates or any other crap!)
There ya go…WIAW!  Here's to enjoying YOUR food today!
Question of the Day:
Do you like breakfast for dinner?
AND…are you going to the Healthy Living Summit??